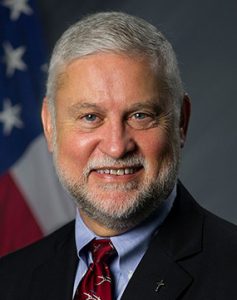 Chairman Mark Glorioso – MVG Solutions
Mark Glorioso is a 34-year retiree from NASA where he designed the International Space Station (ISS) Communication System flying today; led the Engineering team responsible for the maintenance and repair of the ISS during real time operations; managed rocket propulsion system test projects, tested rocket engines and led the Gulf of Mexico Applied Science Program. Mr. Glorioso served as the Director of Center Operations at Stennis Space Center (SSC) for three years and in his last three years at NASA, he managed the NASA Shared Services Center (NSSC) where he was responsible for the back-office support functions at NASA including Accounting, Procurement, HR and IT.  Mark and his wife Natalie have been married for 35 years and they have 3 children and 13 grandchildren. They reside in Picayune where they run a consulting business together, MVG-Solutions.
Partners for Stennis Board and Officers:
Dave Treutel, Jr.
Treutel Insurance Agency
Chairman Emeritus
Mark Glorioso
Owner, MVG Solutions
Chairman
Michael McDaniel
Aerojet Rocketdyne
Past Chairman
Guy Johnson
Coast Electric Power Association
Executive Vice-Chairman
Chuck Benvenutti, CPA
Alexander Van Loon
Treasurer
Tish H. Williams
Hancock Chamber of Commerce
Secretary/Executive Director
Bill Cotter
Retired Executive
Jamie Miller
President
Gulf Coast Business Council
Mayor Greg Cromer
City of Slidell
Vice-Chair, Government Relations
Dr. William Wainwright
Northshore Technical Community College
Vice-Chair, Workforce Group
Patrick Scheurmann
Geocent
Vice-Chair, Economic Development Group
Al Watkins
Retired Executive
Vice-Chair, Membership Group
Members are invited to engage by participating as a member of one of the working groups above to set a vision, goals and objectives to achieve.